2 for $25 Indoor Archery Class @ Chandler Archery Headquarters Academy
Date
Sunday, 06 Jul 2014 4:15 PM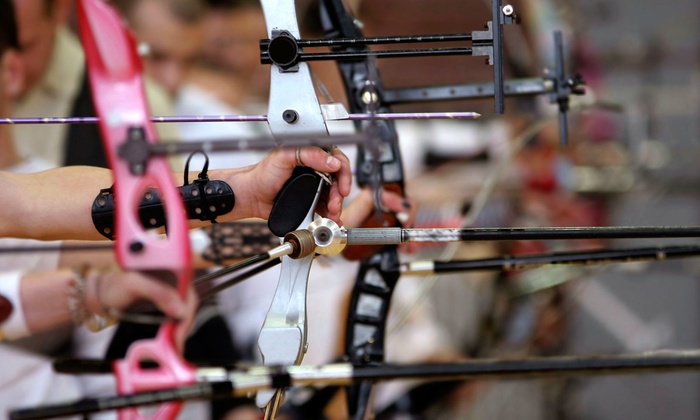 Note: Make sure class spots are still available before buying groupon
There is a groupon that is $25 for 2 intro to archery lesson including equipment and practice time on range or $49 for four people.  After a 15-minute introduction to safety and one of two bows, sling arrows at targets for up to 45 minutes. Groupon here:
http://www.groupon.com/deals/archery-headquarters-academy-3?utm_source=GPN&utm_medium=afl&z=skip&utm_campaign=200940

After you buy groupon schedule for Sunday July 6th 4:30pm Scroll to bottom of page where it says 18 and up do not schedule for 8 year olds at 1:30pm
http://archeryacademy.com/voucher-schedule/

Cancellations must be made 48 hours in advance for full refund other wise voucher is forfeitedYou must be on time for class, No late admittance!!Please put the number of shooters under the quantity option!! If you are not able to put the number of shooters you want, then the class is full and CANNOT accomodate the number of shooters you are wanting to bring!! If that is the case you must choose another class!! If booked improperly you may have to reschedule upon showing up to the class!!

The instructors at Archery Headquarters Academy describe their chosen sport as a lifelong pursuit, one sharpened throughout years of training. It's never to early or too late to begin, and they gladly take on any student aged 8 and up. At first, they focus simply on fitness and fundamentals and introduce the skill in one-hour classes that cover proper form, safety, and essential range etiquette, such as how to avoid interrupting someone else's shot with a tasteless belch. As training continues, the instructors familiarize students with different types of bows and shooting styles. They encourage their charges to pick the combination that most appeals to them and pursue it through their intermediate and advanced classes, which arm attendees with the skills for hunting or competition.